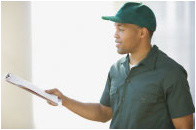 EcoWise Certified IPM Service Providers
EcoWise Certified IPM Service Providers must demonstrate through a rigorous program of testing, service record reviews, and field audits that they are offering Integrated Pest Management (IPM) services that meet EcoWise Certified standards. EcoWise Certified standards are designed to reduce pesticide exposures to people, pets, and environment. The EcoWise Service Providers listed below can manage ants, roaches, flies, spiders, rodents, stinging insects, bed bugs, and many other pests using proven, effective IPM methods.
Note: EcoWise Certification does not cover termites or other wood destroying organisms.
Be sure to mention EcoWise certification and ask for EcoWise Certified IPM services when you call!
San Francisco Bay Area and Northern California
Alert Pest Control
182 School Street
Daly City, CA 94014
650-756-2225
http://www.alertpestcontrol.com
Certified practitioner: Michael Jaurigui
Applied Pest Management
2425 Sonoma Blvd.
Vallejo, CA 94590
800-244-1176
707-554-0110
http://appliedpestmgt.com/
Certified practitioners: Chris Cowen, Nick Fowler, Donald Wicks
ATCO Pest Control
275 Bel Marin Keys Blvd., Suite A
Novato, CA 94949
888-900-9697
415-898-2282
http://atcopestcontrol.com/
Certified practitioners: Kenny Devore, Richard Estrada, Kristopher Fox, Christopher Garcia, Craig Hoefer, William Johnson, Jonathan Machado, Brandin Martinez, Robert Ramirez, Colby Reacer, Jared Tinaza, Michael Troup
Pestec Antioch
PO Box 2393
Antioch, CA 94531
925-757-2945
http://www.pestec.com
Certified practitioners: Carlos Agurto, Diane Agurto, Benjamin McCorriston
Pestec San Francisco
1555 Yosemite Avenue, Suite 46
San Francisco, CA 94124
415-671-0300
http://www.pestec.com
Certified practitioners: Luis Agurto, Jr., Valarie Agurto, Matthew Ball, Angela Bedell, Maria Flores, Valentin Flores, Ronald Huang, Matthew Huffman, Herminio Lopez, Patrick Ray, Crystal White, Cherry Wong
Pestec San Jose
888 N. First St., Suite G
San Jose, CA 95112
408-564-6196
http://www.pestecipm.com
Certified practitioners: Mikail Price, Richard Robles
Western Exterminator Company
1611 Terminal Avenue
San Jose, CA 95112
831-757-6266
http://www.westernexterminator.com
Certified practitioners:Donald McComb, Jr., Pari Pacamuthu
Southern California
Hearts Pest Management
11315 Rancho Bernardo Rd., Suite 149
San Diego, CA 92127
800-986-1006
858-486-1006
http://www.heartspm.com/
Hearts Pest Management provides EcoWise Service to: Los Angeles, Orange, San Diego, San Bernadino, Riverside, and Ventura Counties
Certified practitioners: David Cole, Edward Cosgrove, Phan Duc, Brandon Espinoza, John Ham, Jonathan Horn, David Lewis, Austin Russell, Jay Strassner, Luis Veron, Gerald Weitz
Western Exterminator Company (Anaheim office only)
305 N. Crescent Way
Anaheim, CA 92801
866-237-2065
714-239-2800
http://www.westernexterminator.com/
Certified practitioners: Denis LeBreton, Keith Willingham, Pari Pachamuthu
---
Don't see a certified company in your area? Click here for a list of EcoWise Certified individual practitioners whose companies are not yet certified.